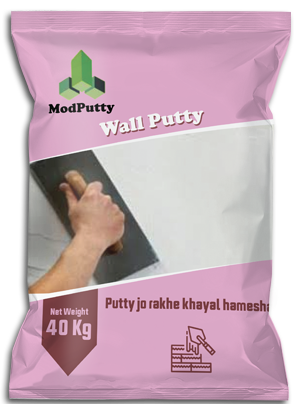 Ensures smooth and even finish before painting on walls. a protective base coat  of paint on wall and ceiling. It's greater adhesive properties enable perfect bonding with the base and paint.
Wall putty is a well-known term used for a material with high plasticity, which is very similar in the texture of clay or dough and is typically used in domestic construction as a primer to colour or protective sub-layer to paint primer as well as a sealant or filler.
Application of putty will take care of all the defects/problems of painting. It will fill the hair cracks and pinholes on walls. The surface finishing, if uneven due to defective plaster will get improved. It has good bond both with substrate as surfaces like plaster and of course with paint.
It will fill minor cracks and surface imperfections. Application of wall putty before the application of paint helps you to achieve smooth, levelled, finished and stunning surfaces for all kinds of paint.
As the application of putty provides a smooth surface for paint, it increases the paint's covering capacity. The putty thus reduces consumption of paint and hence overall cost of painting gets reduced and also increases the life of the paint. It also allows expensive paint to last several years. Hence it definitely saves the cost of painting.
| | |
| --- | --- |
| Parameter | Specification |
| Color | White |
| Packaging | Bag of 40kgs |
| Tensile Adhesion Strength @ 28 days | >0.1 N/mm2 |
| Compressive Strength @ 28 days | 3.5-7.5 N/mm2 |
| Initial Setting Time | ≥ 100 min |
| Final Setting Time | < 500 min |
| Water Absorption@ 28 days for 24 hrs | < 0.8 ml |
| Water Absorption Coefficient | < 1.0 Kg/m2 . h½ |
| Water Retentivity | ≥ 98 % |
We've Been here for over 20 years
We have an experience of more than 20 years in the fly ash industry, and are dedicated to be the driving force of change in the construction material market to make it more inclusive for the nature.