ModPlast –
Gypsum Plaster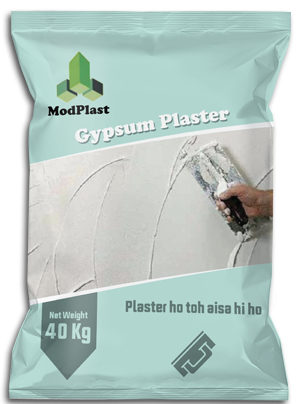 ModPlast – Gypsum Plaster
Plastering the walls is important for a smooth finish to the room. The typical sand cement plaster is still the most prevalent type of plastering all over the country, however the advantages that gypsum offers over the conventional sand cement plaster is making gypsum plaster growing in trend and usage.
Gypsum is a grayish white soft compound that contains hydrated calcium sulphate, and is a widely used material in light weight construction in the western countries.
Gypsum is environment friendly. Architects and interior designers prefer gypsum these days, as it is easy to work with and saves time. There are many advantages that gypsum offers over traditional sand cement plaster. In this article, we shall take you through these advantages, so that when you plan to get your house constructed, you will be able to make an informed decision for the plastering of your home walls.
Here are 6 ways to make your home wall fantastic: 
Saves construction time
Has lower impact on environment
Incurs low water usage
Elimination of shrinkage cracks
Offers ease of application
Lighter construction with gypsum plaster
Better heat insulation
Offers better acoustics
| | |
| --- | --- |
| Parameter | Specification |
| Color | Grey |
| Packaging | Bag of 40kg |
| Initial Setting Time | 15 to 20 mins |
| Final Setting Time | 30 to 35 mins |
| Partical Size | 95 % passing through 100 mesh |
| Compressive Strength | 55-60 kg/sq.cm. |
| Flexural Strength | 30-35 kg/sq.cm. |
| Bulk Density | 0.85 – 0.9 gms/ cu-cms |
| Modulus of Ratio (kg/cm2) | 40 kg/sq.cm. |
| Consistency (water/Plater ratio) | (65mL – 70mL) : (100 /gm) |
We've Been here for over 20 years
We have an experience of more than 20 years in the fly ash industry, and are dedicated to be the driving force of change in the construction material market to make it more inclusive for the nature.