ModBond –
Tile Adhesive/
Mortar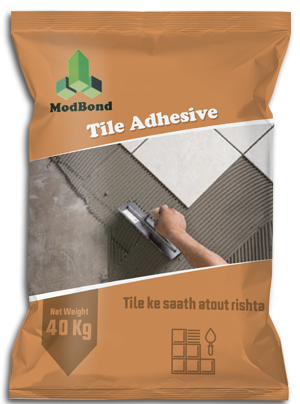 ModBond – Tile Adhesive/Mortar
It is impervious to water, so it does not need any special latex additives, as does some thinset. Epoxy mortars work well for porcelain and ceramic, as well as for glass, stone, metal, mosaic, and pebbles. Epoxy mortars can even be used for installing rubber flooring or wood block flooring.
ModBond Tile Adhesive is a single component, pre-packed tiling adhesive mortar combining cement with selected grades of silica sand and several admixtures. ModBond Tile Adhesive has good bonding and consistency in different climate, and can be used for adhering different kind of tiles. Only requires addition of water.
ModBond Tile Adhesive provides the following properties:

Factory mixed – Consistent quality

Better coverage: 8-9 m

2

per 20 Kg (based on 2 mm mortar

thickness)

Better workability. Save 25-50% of time

Fixing wide range of tiles

Tiles can be adjusted up to 30minutes after application

Good bond adhesion
In the following substrates:

Concrete

Hard natural and reconstituted stone

Solid rock

Hollow and solid masonry

Cementitious plaster and render
Advantages:
Pot life up to 2h30min at 20°C

Extended Open Time up to 30min at 20°C

Final setting time starting 420min

Initial setting time is up to 360min

Economical by 10-20% than conventional mortar

Excellent adhesion to the substrate

Low wastage
| | |
| --- | --- |
| Parameter | Specification |
| Color | Grey |
| Packaging | Bag of 20kg & 40kg |
| Density | Approx. 1.6 kg/litre |
| Water Needed | 160-200 mL/kg |
| Minimum layer thickness | 2 mm |
| Tensile Adhesion | @30 mins, 0.60 MPa |
| Material Consumption | 2.5 - 6.5 kg/sq.m. |
We've Been here for over 20 years
We have an experience of more than 20 years in the fly ash industry, and are dedicated to be the driving force of change in the construction material market to make it more inclusive for the nature.