Corporate Social Responsibility
Shiksha Bharti Educational Institutes
Smt. Brahmadevi Saraswati Balika Vidya Mandir
This school has been conceptualized to materialize the ethos of nation-building and Indian Culture with the objective of overall development of a girl child. Education in our school is different from most of the other schools who, emphasize book learning and almost neglect of all other aspects of education. This school has a unique system of education called "PANCHMUKHI / SHATPADI SHIKSHA" which includes six important elements namely Moral education, Physical education, Spiritual & Yoga education, Sanskrit education, Music education, Vocational education. Synthesis of spiritual & moral values with academic achievements is the key feature of the school.
It is operational in the premises of "Shiksha Bharati" with the total strength of 1700 girls getting their education from class one to twelfth under the able guidance of sixty well qualified and experienced teachers in its own sparkling building having large class rooms of 22X28 size and nine labs of 35 X 50 feet and large play fields. This school is affiliated to C.B.S.E. Delhi since 1999.
To groom their personalities apart from learning their subjects from their experienced and learned teachers using modern classroom techniques such as e-learning, they are also participating regularly in other co-curricular activities like dance, music, drawing, painting, yoga, sports, stitching, embroidery, cooking etc. Moreover some vocational courses such as food preservation, soft toys making, beautician course and computer have also been introduced so that a girl can stand on its own feet even after completing their class XII education. The girls who are studying in the school or passed out, achieving mile stones in their concerned fields.
Primary School, Shiksha Bharti
To provide education and training for skill up gradation and lifelong learning to girls and women belonging to underprivileged sections of the society.To identify and reach out to prioritized groups viz. girls in tribal areas, rural and urban poor girls, and girls and women living in remote areas and in difficult contexts.To organised awareness program for prevention of Infanticide and for rural development To prepares and implement educational, health and skill development plans and program.
Smt. Sumitra Devi Shishu Mandir
Smt. Sumitra Devi Saraswati Shishu Mandir is in a small village named Galpadar near Gandhidham (kutch) operated by Sumritra Rajkripal Group (SRG), where the children from the village and nearby areas who cannot afford education are helped to get educated.
Hostel & Girls' Computer Training Center
A Hostel run by Shiksha Bharti provides boarding, lodging and various extracurricular activities which aids the skill development of girls. A separate Girls' Computer training center is also run within the premises of Shiksha Bharti for rural girls.
Village Development Program by Shiksha Bharti
Shiksha Bharati has adopted five neighboring villages under the rural development planning in order to help the people gain access to suitable education and employment opportunities and ensuring health and social harmony to turn them into ideal villages. The number of such villages will be expanded up to 25 gradually in near future.
Shiksha Bharati has established a state of the art computer education center to provide computer education without charging any fee for the underprivileged girls from our town and surrounding villages who are not regular students of our school in March 2012. About 300 such girls/women already completed their computer education program from this center. Five Vocational centers are operational at present in five villages.
One hundred women finished their sewing training and also got one electrified multi-functional Usha sewing machine each and one another batch of 100 women is under training that will be completed in 15th November 2014. Shiksha Bharati also has recently established a Primary School in a village GOYNA for the children belongs to deprived section of the society. Forty children are getting education in this Primary School at present.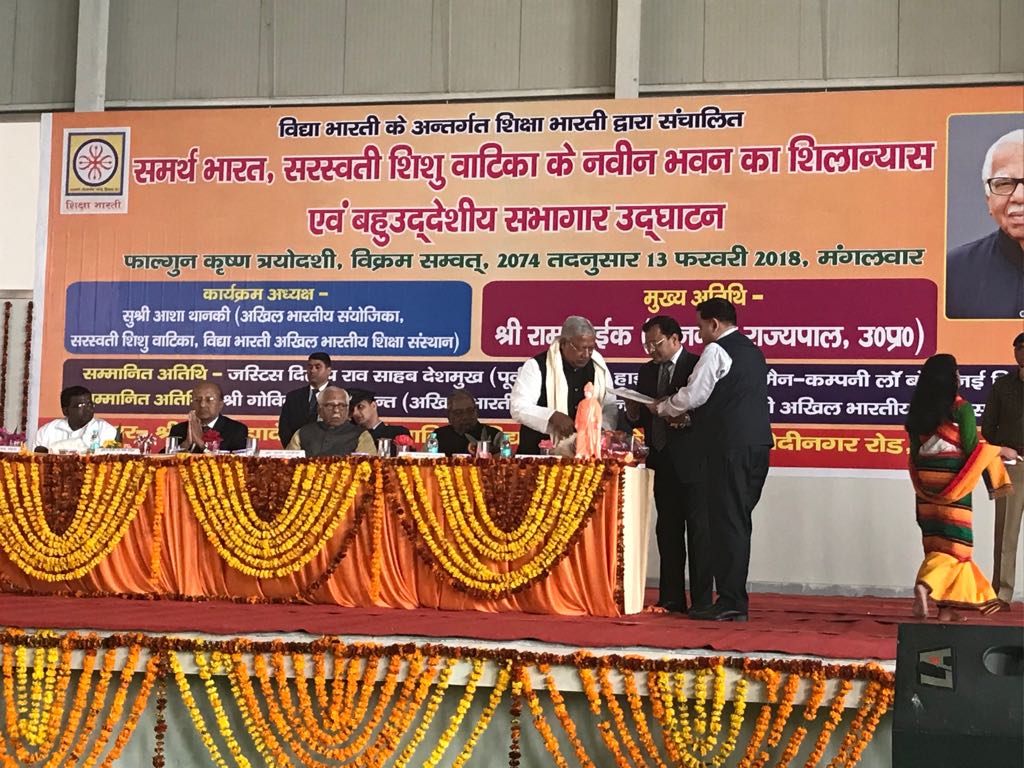 MD Sh. Sandeep Kumar Jindal felicitating Governor Of Uttar Pradesh Sh. Ram Naik and Member of Parliament Sh. Rajendra Agarwal, at Shiksha Bharti Samarth Bharat Programme.
Human Development Foundation, Noida
After establishing oneself in society and having achieved one's dreams a person looks forward to return back to the society as an act of gratitude. With this thought in heart few like minder people cam together in the year 2015 and a selfless team "Human Development Foundation" was born.
It had the following clear objectives to give direction to the movement: 
Enhancement of the quality of life and life management systems.
Helping the unpriviledged sections of the society in the areas of heathcare, education, livelihood opportunities, women empowerment, skill development, digital empowerment, capactiy building, entrepreneurial capabilities, environmental protection, sanitation and sustainable development. 
Providing employable skills to the rural youth and urban floating population.
Promotion of native adn aboriginal skills, traditional arts, crafts and culture. 
Providing language and communication capabilities. 
Science and technology skill and entreprenur development.
Collaborating with national and international government and civil society organisations for achieving these objectives.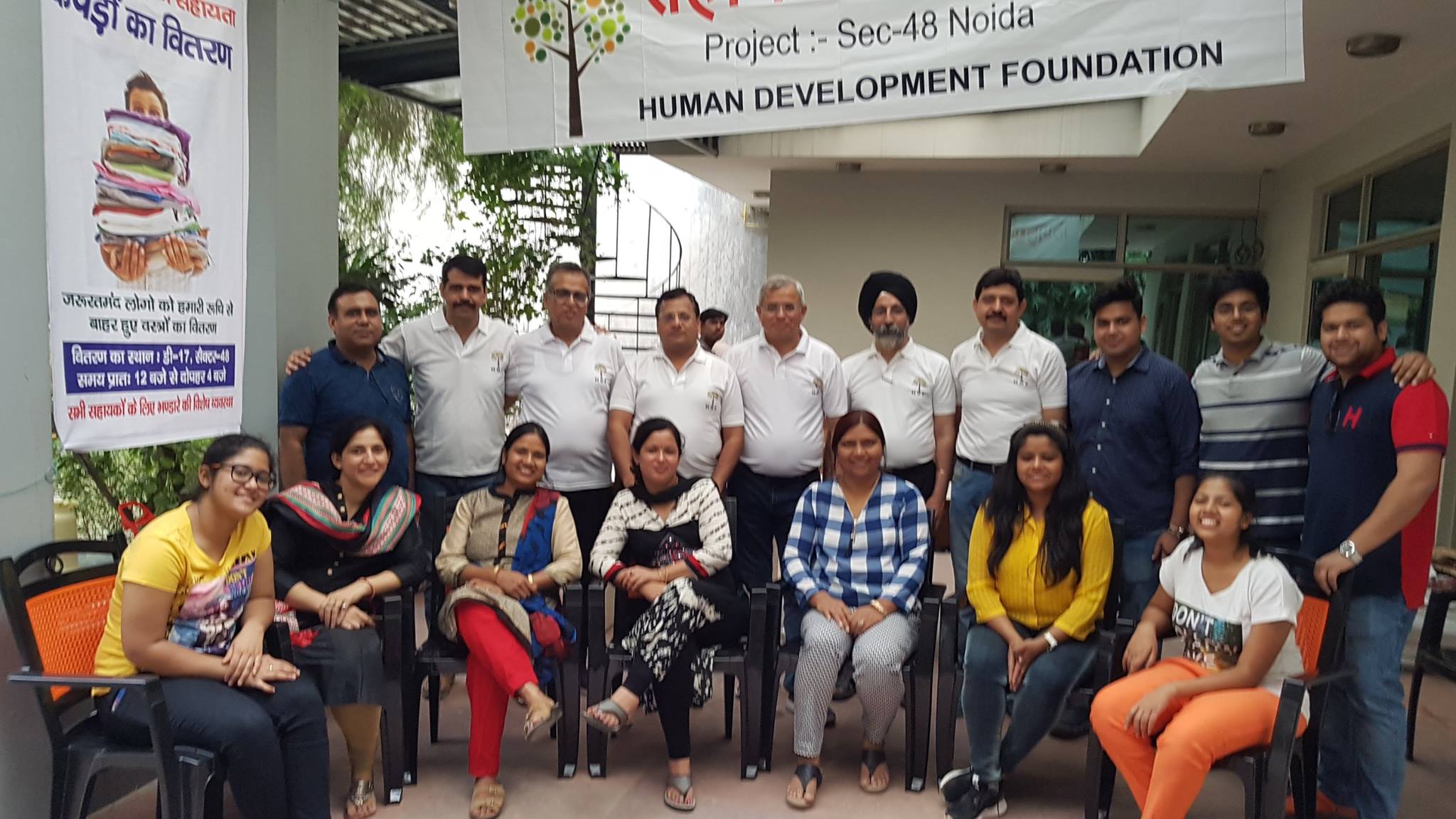 Prime Minister's National Relief Fund (PMNRF)
Committed towards the goal for bring betterment for all – even in the worst of scenarios, the company has time to time contributed towards the fund.
Amidst the COVID-19 internation crisis, the company had contributed towards the fund to help the government cope with the abnormal challenges, and bring the entire population out of the situation with minimum impact. 
Tree Plantation and Environmental Awareness Drives
With the inherent objective of moving the entire construction industry towards a more environment friendly path, and with having an obligation of spreading information about the environmental concerns, the company has from time to time, organised tree plantation drives, and has conducted various seminars and workshops to impart the knowledge of a greener society to people.
A total of about 5000 trees have been planted till now, and the company has an objective of planting a total of 50K trees in the upcoming couple of years.